Student Life
Residential Boarding
Residential Boarding
Student Life
Residential Boarding
A LIFELONG LEARNING COMMUNITY
Within our caring APIS 'ohana, boarding students build rich global relationships that last a life time.In an environment where everyone is known, our students find confidence and courage to reach for their highest aspirations and dreams. Students live in Learning Commons (LC) together with faculty dorm parents, learning to independently manage time, cleaning, and social skills. LC common areas also serve as daytime classrooms, evoking the ultimate living-learning community.
New desks, closets, and beds
Air conditioning
Two students per room
Bathroom facilities for every two rooms
Twenty-five-meter swimming pool
97-acre campus with hiking, waterfalls, and Pacific ocean views
Gated campus in rural community
24/7 security
5-day and 7-day boarding options
A DAY IN THE LIFE OF APIS STUDENTS
From alarm clock to lights out, here is a typical weekday of an APIS Hawai'i residential boarding student.
7:00 - 7:45

The alarm goes off.
Wake up, and get ready for school.

7:45 - 8:10

Enjoy a refreshing breakfast
at the school cafeteria.

8:15 - 15:30

Class is in session.
Every student excels through a
personalized curriculum.

15:30 - 16:00

Relax. Time to enjoy some snacks,
or meet with teachers for extra help.

16:00 - 17:45

Participate in various afternoon
activities and sports

18:00 - 19:00

Enjoy dinner, which often includes
announcements, celebrations, and student speakers.

19:00 - 20:30

Study and receive support from teachers
during evening study hall.

21:00 - Until Bedtime

(age dependent)

Prepare for bed and lights out
DINING
APIS' chef serves up delicious dishes for diverse preferences and palates. Weekday breakfast, lunch, and dinner meals always include meat and vegetarian options, and the weekend brunch serves a bounty of breakfast and lunch offerings to fuel a fun-filled weekend. Every month, APIS hosts a cultural night where food from a specific country in the world is featured alongside cultural lessons.
EVENING STUDY HALL
Learning at APIS does not stop when the school day ends. Our Signature Evening Study Hall Program offers additional academic support. From 7 to 8:30 p.m., students meet with teachers who specialize in content areas, like math, English, or East Asian languages, to receive individualized support. Art studio hours and music sessions are also offered.
5-DAY BOARDING
Students arrive to school at the beginning of the school week and return home on Friday afternoons. It is truly the best of both worlds, allowing children to thrive at APIS' North Shore O'ahu campus and gather with family on a weekly basis.
WEEKEND ACTIVITIES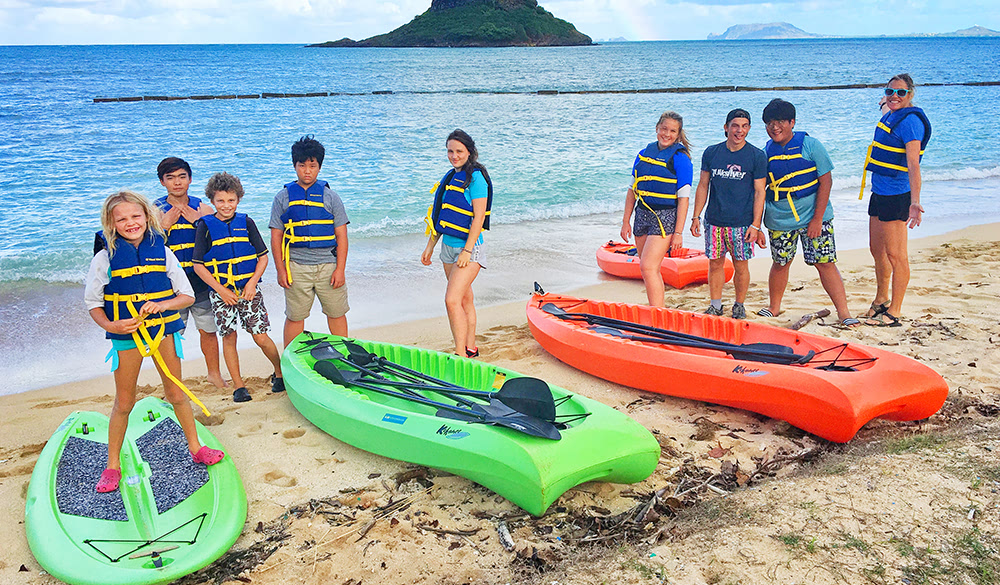 Every Friday afternoon, we take students to our local beach, right across the street from the school. The aqua blue water and pristine white sand offer the perfect place to relax and enjoy time with friends. Every Saturday and Sunday, students select trip options from around O'ahu:
Hiking
Camping
Snorkeling
Surfing
Museum visits
Honolulu trips
Movie outings
Food tours
Art classes
Open Mic Nights
Church services
Shopping at Ala Moana Mall